New Gellet Ball Parties!
A safe and fun variation of paintball for 6 year olds and up
Now Available for Players 6 years of age and older!
Gellet Ball Parties are the new fun craze offered at Crusader Paintball! This super environmentally safe alternative to paintball uses a small pellet that expands in size when soaked in water, called a Gellet. Now your younger kids can get the healthy, safe, and fun benefits of a paintball party! These gel-based pellets are small and have little speed or force, so there is no worrying about too much impact like you can get with a paintball.
The games are even so fun that our adult referees like to play these games at meetings and group events!
Ages 6 years and older can all play together in a party! Gellet Ball is the perfect outdoor family party!
Information about the Gellet Ball versus other offerings: 
Gellet Ball : 7.5 mm Gellet (0.24 inch, or .24 Caliber) @ 150fps
Low Impact: 12.7mm Paintball (0.5 inch, or .50 Caliber) @ 250fps
Traditional Paintball: 17mm Paintball (0.68 inch, or .68 Caliber) @ 285fps 
So a Gellet ball is less than half the size and half the speed of a paintball! Not even our super-fun Low Impact Paintball can compare!
Gellet Ball Party
10 player minimum and 50% non-refundable deposit required
60 minutes of playtime is included

Standard Mask Rental included for every player

GelBlaster Surge rental provided for every player

TWO hoppers of 750 Gellets included (1,500 total)

Unlimited Gellets now included!

Chest Protector is not included

Anti-Fog mask is not included
Gellet Ball Party Extras
| | | |
| --- | --- | --- |
| Gellet Hopper | Approx. 750 Gellets | $ 8.00 |
| Gellet Bottle | Approx. 3,000 Gellets, or 4 reloads | $ 25.00 |
| Gellet Bucket | Approx. 10,000 Gellets, or 12 reloads | $ 70.00 |
| Unlimited Gellets now included! |   |   |
| Chest Protector Rental | Per Player | $ 7.00 |
| Camo Coverall | Per unit, sizes Youth to 3xl | $ 10.00 |
| Anti-Fog Upgrade | Per Upgrade | $ 10.00 |
Continuing our classic hassle-free experience these packages include everything you need. For $30/player (10-player minimum), each player will receive: 60 minutes playing time, rental Mask and Gel Blaster marker, as well as 1500 Gellets (2 'hoppers' of 750) for each player. Since we are the party experts, we know you will want to have some kind of pizza or cake, but having muddy kids in the cars and at your house isn't ideal. So feel free to stay for pizza and cake at our Picnic Pavilion after the games end!
*Picnic Pavilion is not private, and is adjacent to playing fields. This Picnic Pavilion can be accessed by all without mask and waiver. To go to the player's area / safety zone, you must have a waiver on file, and be escorted by personal. Parties are invited to utilize the Picnic Pavilion for 30 minutes after their game time is scheduled to end.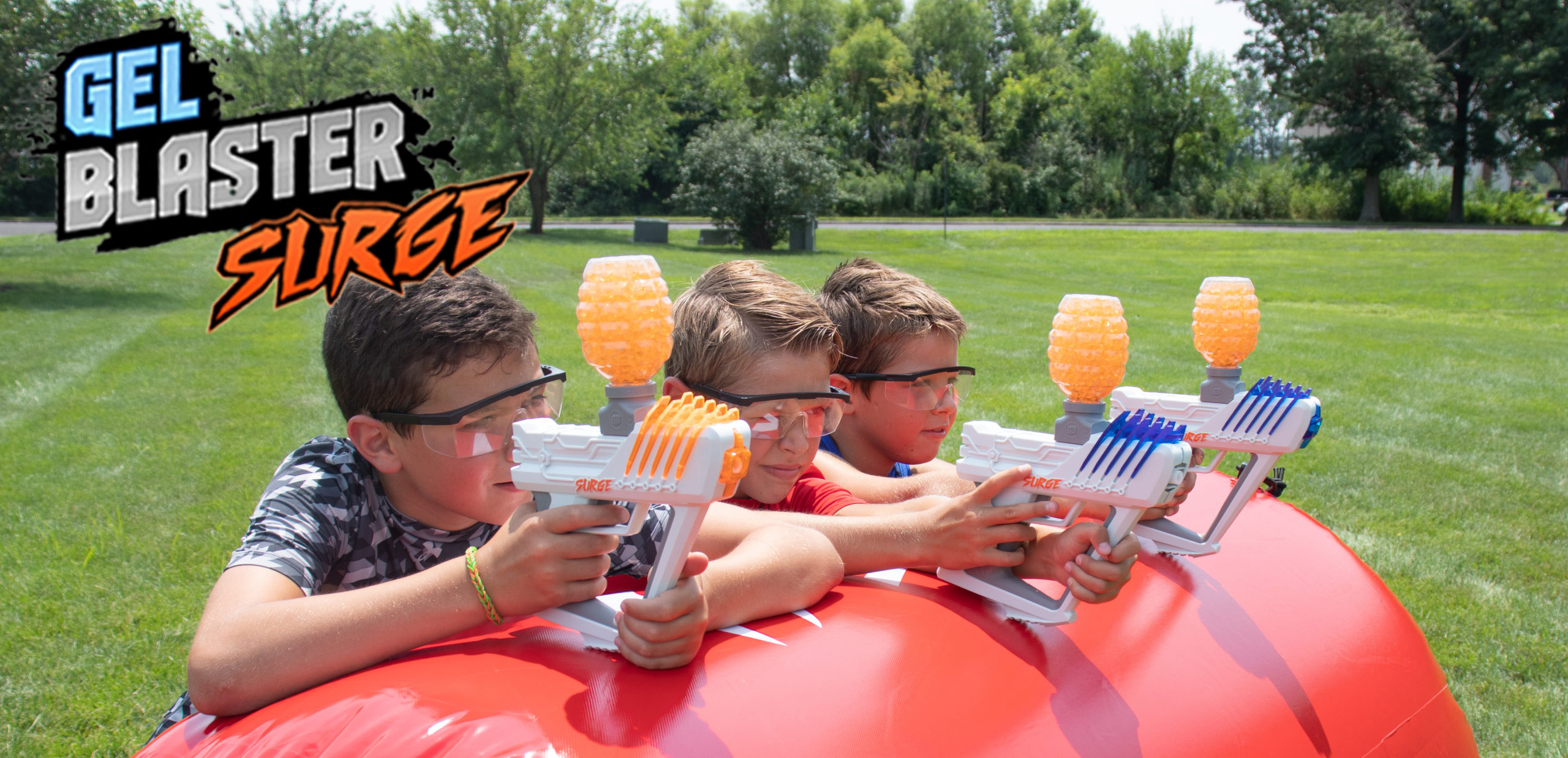 Just $34.00 / player, tax included, with a 10 person minimum, will include a Gel Blaster marker, standard Rental Mask, and Unlimited Gellets per player . This package deal is one of the best we offer!
For example, a minimum is $340.00 for 10 Players, paid with a 50% non-refundable deposit of $170.00 when you book the party and $170.00 due on the day of.
The Gel Blaster Gellets are super small compared to a regular paintball, almost 25% of the size of a paintball. Unlike a paintball which has a hard outer shell that holds 'paint' inside of it, a gellet is made of a soft gel substance that expands in water, and dehydrates without it. Once the surface of a gellet is broken the entire thing will begin to decompose, so it's softer material is perfect for a low-speed game. They travel slow enough that even an accidental misfire into your own foot doesn't leave a mark at all! (Our refs tested the equipment at point-blank ranges and couldn't have enough fun doing so!)
As part of the private party, you will have a 'player/party area' (called a Safe Zone) that has tables / benches for between-game water breaks. This area is where the players will spend the bulk of their time, so coolers with water are welcome. The only people allowed in Safe Zones are people with a signed waiver on file and a rental mask as well (Free of charge)
Spectators, parents, grandparents, siblings, cousins, aunts, uncles and everyone else (not the pets, sorry) are welcome to the fields. In order to access the Playing Fields / Picnic Area, vehicle transportation for players and spectators alike will be necessary. In order to access the Player Area / Safety Zone, a signed Waiver and a Rental mask will be required. Rental masks are provided at no cost for the first four spectators.
While we do offer a small snackshed for refreshments such as candy, chips, and drinks, we don't have a grill. That means no real food is offered. To make a complete party experience, we recommended calling our neighbors Uncle Charlie's Pizza – they have great pizza, at a great deal, and deliver to our fields on a daily basis. Everyone loves their pizza! Ask for their menu upon arriving at the Pro Shop, we'll be happy to provide it to you. They'll deliver your order right to the Picnic Pavilion at the time you request!
We know this is the 'elephant in the room' question, so we make it simple – you are not expected to tip, the referees are paid staff. However, they are your hosts for the duration of your stay, and we sincerely hope they help make it a memorable experience for you and your family.
Tips when given are normally between $20 and $40, but even just something simple like a slice of pizza and a thank you is more than enough for the referees!
Arrive to your Gellet Ball or GelBlaster party about 45 minutes before your scheduled start time. Remember, we can start you early and extend the game time, but if you show up late you will be losing some of your field time!
We guarantee equipment for the people you pay a deposit for only. We can try to accommodate additional players if we have the staff and equipment available, but without updating your headcount we cannot make that guarantee. Please give us a call as soon as possible if you think you may have a few extra players attending your party.
The water-based Gellets do not leave a residue of any kind, so any clothing you are comfortable being outdoors in is great. You will be running around, crouching, moving between bunkers, so athletic or loose fitting clothing that you aren't afraid of getting dirty is preferred, as it is still a paintball field, even if people won't be shooting paintballs at you. If it rained recently, the fields may be muddy! Lastly, remember a change of clothes, just in case! If you would like to protect your clothing and gain an advantage in the woods, we offer Camo Jumpsuits for $7
Once you have at least 10 players, call our ProShop at (215) 949-4600 to schedule a reservation. All parties require a 50% Non-Refundable Deposit. You can also check availability and make a reservation right here!
Often time players or parents are worried about some extra protection; we honestly only recommend opting for the Anti-Fog mask rental ($10.00) or the Neck Protector ($5 in the ProShop). We do also have camo coveralls to protect your clothing for $10.00.
There are no other upgrades for Gellet Ball games at this time. Stay tuned!
Book your all-inclusive party package online now.
View available times, view packages, leave a deposit, send out invites, and fill out your waivers in just a few minutes. Takes you to our secure site hosted by Vantora, our online-reservation partners.