Celebrating 20 years of service!
We are happy and humbled to be your paintball service center for the past 20 years. To celebrate that, we thought we'd offer some great specials throughout the year. Click to learn more!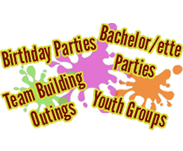 Schedule your next birthday party, bachelor party or team outing with us. We offer all the equipment and facilities you need to host a hassle free event.
Do you offer private parties?
Yes we certainly do! We are the experts in providing paintball parties in the Philadelphia, Trenton, and Lehigh Valley region. From Birthday Parties of 10 players to Corporate Outings of 100+ players, we can handle a variety of requests, and frequently work with schools, universities, hospitals, government agencies and more. Our packages include EVERYTHING: rental mask + gun + tank + paintballs , with private tables and fields included, we are the best valued paintball field you'll find.
Is there a minimum for private parties?
Yes, there is a 10 person minimum for all private parties. If you have less than 10, consider coming to one of our public walk ons, held every Saturday and Sunday.
How do I make a reservation?
You can make a private party reservation by calling our Pro Shop at 215-949-4600, or by using our online booking system. Please be advised that we require an up-front 50% non-refundable deposit when you want to book your time slot, so please have a credit card ready. This means that just calling and talking to a store associate about a party does NOT guarantee your party.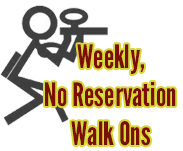 Come and battle it out every Saturday and Sunday from 10am until 4pm. Full day and half day rental packages available.
Do I need reservations for Walk In Play?
Nope! Open Walk On play is offered on Saturday and Sunday for anyone who just wants to make a day of playing paintball. Whether you are an enthusiast or just want to try paintball for the first time, we are the place for you.
Do you have rental packages? What if I have my own equipment?
Yes we do have plenty of rental packages available on a first come first serve basis on weekends. You can guarantee your outing by making a reservation for Public Play using our Online Booking System. We offer Rental Packages in two sessions – Full Day or Half Day.
Field Hours: Saturday and Sunday from 10am to 4pm.
Full Day Session is from 10am to 4pm. Registration is from 9am to 2pm.
AM Session is from 10am to 1pm. Registration is from 9am to 11am.
PM Session is from 1pm to 4pm. Registration is from 12pm to 2pm.
*All players who want to use rental equipment must be 18 years of age or older, or be accompanied by an adult or legal guardian, and must leave collateral until equipment is returned; a Government ID or Credit Card only.
What Our Customers are Saying
"My son is 10 and always wanted to play. His first time in the shop he already knew so much that when he talked to the staff it was like a different language to me. They were so understanding and helpful with both of us. They made me feel assured that it was OK for him expand into this sport without me watching over his back taking hits for him and they "translate" the paintball language for me. Lol. I love this place and so does my son."
"I love this place. Friendly staff and great prices. They're really helpful when it comes to repairs and picking out a new gun. I come here almost every weekend and that's not going to change. I'm very happy it's close-by and I have never had a problem here."
"Took my son to his cousin's 12th birthday party at CPB today. As they were short (8 of ten paid for) I suited up and played for the first time in 20 years. And I had a blast. The staff was extremely professional and helpful, the refs were the same, and everyone had a GREAT time. So much so that my son and I are looking into purchasing gear and playing more regularly. SO much better than the indoor or "polished" fields."
"I held a private party for my boyfriend's 24th birthday. There was 10 of us and of course the group I brought people were late, but the entire crew was accommodating in every aspect. Our refs Noah and Steve were such cool guys that really cared about our safety, others on the fields, and made sure we all had fun. They took their jobs very seriously and are GREAT representatives for Crusader. At the end let us choose the games we wanted to play (like COD inspired games). They really had an impact on our party and if anyone ever asks where to go I will recommend Crusader. Thank you all for the amazing party and time!"